Why Go Study Spain
Best Universities in Spain
We only work with the best and
most prestigious universities in Spain.

Experience
More than 10 years of experience offering Spanish courses in Spain.
Specialization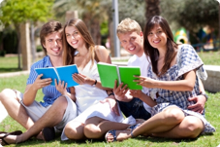 We are focused on offering
Spanish courses
only in Spain
Our local staff and offices
in Spain offer you
the best and
most authentic experience
Below you can find 6 good reasons to choose to study abroad on one of the programs offered by GSS.

All Included. We offer a complete package on any of our programs, including full advice, course fees, first class accommodation, health insurance, activities and excursions, onsite support staff and director, available transcripts and credits, a free interactive Spanish online course and much more.
Specialization. We specialise in offering Spanish courses in Spain and unlike other agents, we do not offer courses worldwide. We can therefore offer the best guidance and service available to make your stay in Spain an unforgettable and positive experience. By specializing in Spain, we are able to offer you better advice and guidance with choosing the right program, and our profound knowledge of the country and its customs will be used to help you to better adapt and experience all the aspects of the Spanish culture during the many activities we arrange for all of our programs.
Quality Programs. At GSS, we only offer courses at the best and most respected universities in Spain. Furthermore, we actively work with the universities to make sure that their courses maintain the high standards we require for our study abroad programs. We regularly provide the universities with feedback from our clients to help them further improve their service.
Staff. We have been offering Spanish study abroad programs in Spain for more than a decade and have a dynamic and qualified team at all locations that will be supporting you for the whole of your stay, as well as organizing and participating in our many free-time activities. At our central office in Malaga we will take care of all the paperwork and administrative tasks such as the confirmation letters that are used to get a student visa or help with transferring credit for your studies in Spain.
Accommodation. When booking through GSS you choose the type of accommodation you prefer. All our accommodation is top quality and has been carefully inspected by our staff. In addition, you can choose between living with a Spanish family, living in a shared student flat or living in student residence - you will always have a single room unless you specifically request a double room.
Experience the Culture. The GSS Study Abroad in Spain programs are more than just a Spanish language course. We make a great effort to ensure our students have a great time, learn the Spanish language and get to experience the Spanish culture. On most of our activities and excursions there will also be Spanish people participating, and we encourage our students to exchange language classes or participate in sport activities and other events with Spanish students.