Special Offers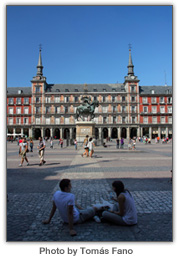 It's no mystery that times are tough financially no matter where you look. And in times of crisis, education is always a safe bet. A higher skill-set results in enhanced employability and increased earning potential; something we could all use plenty of these days.
Knowledge of Spanish in particular is one of the most valuable and widely applicable skills to be acquired in today's global economy, where the importance of the language and the growth of Spanish-speaking media continue to rise in places like the U.S. (even in the midst of the economic crisis).
This is why GSS is offering you two important discounts on their packages;
Book in advance and save 10% A full 10% off when booking two or more semester packages in Salamanca, Barcelona or Madrid at least 3 months in advance.
Enjoy the summer: 5% 0ff + Free Special Trip A 5% off + a Free Special Trip when booking one or more semester packages in Salamanca, Barcelona, Malaga or Madrid. You can choose between a trip to Paris, London or Rome (the trip includes 3 nights in a hotel and return flight from the Spanish city where you are studying).
We hope you'll take advantage of this excellent opportunity to save while learning a valuable skill and enjoying Spain's fantastic culture and lifestyle in the process :-)