Why GoStudySpain
Best Universities in Spain
We only work with the best and
most prestigious universities in Spain.

Experience
More than 10 years of experience offering Spanish courses in Spain.
Specialization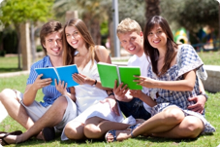 We are focused on offering
Spanish courses
only in Spain
Our local staff and offices
in Spain offer you
the best and
most authentic experience
Top-Quality Spanish Courses at the Best Universities in Spain
At GoStudySpain, we only offer Spanish courses at the most prestigious universities in Spain. Each of the four universities we work with are officially recognized institutions and are government-authorized to provide Spanish courses for foreigners. Each school is carefully evaluated and we utilize client feedback to ensure you have the best experience studying Spanish in Spain. Furthermore, we actively work with the universities to make sure that their courses maintain the high standards we require for our study abroad programs.
We are truly a one-stop shop. From arranging credit transfers and applying for visas, to organizing accommodation and travel insurance, we take care of absolutely everything.
Experience & Specialization
At GSS, we offer Spanish courses in Spain only (unlike other agents, we do not offer courses worldwide). This, combined with the fact that we are a Spanish company based in Spain, ensures that we can offer the best advice and guidance, for example helping you to select the right program or the exact location in Spain to study.
Aside from our knowledge of the country and the market, we have been offering Spanish courses in Spain for over a decade and have served more than 8000 clients. This experience, as well as the fact that we have dynamic and qualified team members at each study location to support you throughout the entirety of your stay, will ensure your trip runs smoothly. At our central office in Malaga, we take care of all the paperwork and administration, such as applying for student visas or transferring credits to your home university.
All-Inclusive Package
We offer you a complete package, which includes: course fees, first-class accommodation, health insurance, on-site support staff, transcripts and credit transfer, activities and excursions, a free interactive Spanish online course and much more.
When booking through GSS, you have a choice of three accommodation options: living with a Spanish family, in a shared student flat or in a student residence. All accommodation is of top quality and has been carefully inspected by our staff. There is the option to request a double room.
Our programs are more than just a Spanish language course. We go to great lengths to ensure that our students learn the Spanish language, experience Spanish culture and, above all, have a memorable experience. On the majority of the activities and excursions we arrange, you will be accompanied by Spanish students, and we encourage our students to exchange language classes or participate in activities and events with Spanish students.
Getting in Touch
Booking is quick and easy: you can book your course online in just a matter of minutes and you can pay by PayPal, credit card or bank transfer.
We're only a phone call, email, or Skype session away. And with offices in Spain, we're physically close at hand during your stay, too.
Why NOT GoStudySpain
As much as we believe that our service is the perfect choice for the vast majority of those looking to study Spanish in Spain, we believe that honesty is the best policy, and below briefly outline why we may not be suited to absolutely everybody.
Price
We refer to our programs as 'All-Inclusive VIP Programs' and offer a complete service to our clients- which comes at a cost. If you are looking for a low-cost program, we are not the right option - you can instead choose to book the course directly with the universities at a cheaper price, and then sort out accommodation, excursions, insurance etc. for yourselves. If you are interested in our programs but want to save money, take a look at our scholarship section.
Location
We are located in Malaga, in the south of Spain. We make every effort to reply to your emails within 24 hours at most; however, if you are located in a time zone which differs to ours, it may prove slightly more difficult to receive a rapid response or to contact us over the phone. Nevertheless, our office opening hours are such that it is possible to phone us at some point during the day, no matter where in the world you live. And remember- our location makes it easier for you to contact us once you arrive in the country, should you require advice or encounter any problems.
Language barriers
Every single member of our team speaks both Spanish and English. If you prefer to arrange and book a Spanish course in a language other than these two, then you may wish to book with a local agent.
Less choice
As we provide a package deal, you are limited in your options. If you do not require, for example, extracurricular activities, they will be included as part of the program anyway.
Less of a challenge
Some people may feel that arranging their semester abroad by themselves is more of a learning experience. For example, negotiating paperwork and finding accommodation for yourself are all part of the challenges of moving abroad. As we organize this all for you, it may be less of an independent challenge to go abroad.