GSS Itinerary
Fall Semester Course at Salamanca University
Please use the itinerary below to get an idea of the services and activities involved in a GSS abroad program in Spain*. This itinerary is of a past GSS program since any details for future itineraries such as trip locations and dates are arranged about a month before the actual program and GSS clients are presented with multiple options from which to select.
September 28th – Arrival in Madrid; bus to Salamanca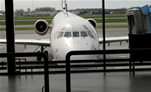 Student is met at Madrid's Barajas airport by a GSS agent and personally driven to the bus station. Here, the student is assisted with the ticket purchase and is shown to the bus for Salamanca.
Student is met at the Salamanca bus station, personally driven to their accommodation and introduced to the landlord / host family.
September 29th – Introductory tour of Salamanca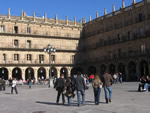 Student is taken on a personal guided tour of Salamanca. Among other sites, the student is taken to the University and introduced to other foreign students studying in the city.

September 29th – Dinner & welcoming party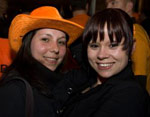 Student is taken out for dinner along with other foreign students (after dinner students typically go out to experience Salamanca's excellent nightlife).
October 1st – First day of class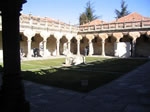 Student is accompanied by a GSS agent to the University of Salamanca and shown to the registration hall and classroom.

October 5th-7th – Weekend trip to Madrid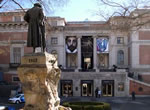 Trip highlights: the acclaimed Prado museum, the Royal Palace and the enormous Retiro park in the midst of Madrid's city center. A great chance to enjoy some shopping, fine dining and Madrid's legendary nightlife.
October 20th – Trip to Toledo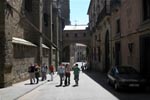 Students enjoy a relaxing stroll through this beautiful medieval town characterized by narrow cobbled streets and stone construction. 
November 3rd – Trip to Segovia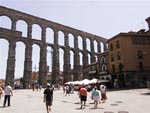 Trip highlights: Segovia's large Roman aqueduct, old town center, and La Granja Royal Palace.

November 9th-11th – Weekend trip to Andalusia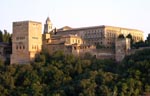 A guided tour of Granada's incredible Alhambra and an intimate experience with Sevilla's famous Flamenco are some of the highlights of this weekend trip to wonderful Andalusia in southern Spain. Morning meals and hotel stays included.
November 30th – Intercambio party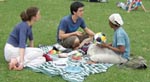 Intercambio (language exchange) gatherings involve the meeting of Spaniards and foreign students and are organized to help everyone involved practice a foreign language. An American student, for example, would be paired up with a Spanish student; part of the time would be spent conversing in English, and part of the time in Spanish.

December 15th – Goodbye party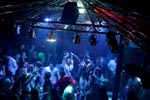 A joyful party to celebrate the good times you had and excellent friends you made during your time in Spain.'
*The events and trips described in this itinerary only represent one aspect of the services included in a GSS abroad program. For a more complete list of services, click here